There is no doubt about it. Peoples' routines have been seriously shaken up by the ongoing COVID-19 pandemic. You may have found yourself postponing a desired cosmetic dental treatment, for example. Although this is certainly understandable, delaying your regular dental exams and cleanings is not recommended for a variety of reasons.
The isolation created by the situation that we have all found ourselves in has led some to make unhealthy choices that can have negative consequences in the days ahead. Since humans are social beings, this lack of contact has led many to a type of mild depression. When we are depressed, we have a tendency to have cravings for foods high in carbohydrates and sugar. These types of snacks and foods give us a temporary mood boost. Unfortunately, it can come with a cost, particularly as it relates to our oral health, since sugary foods and beverages can cause an increase in tooth decay.
Dental Exams
Our dental practice strongly believes in the importance of preventive dentistry. This involves a set of practices that allows you to care for your teeth and keep them healthy, as well as preventing decay, disease, enamel wear and more.
Besides daily brushing and flossing, undergoing regular dental cleanings are a great way to ensure that your teeth remain healthy. When you visit with us, we will perform a thorough dental exam by checking your teeth and gums, screening for oral cancer, and completely cleaning your teeth.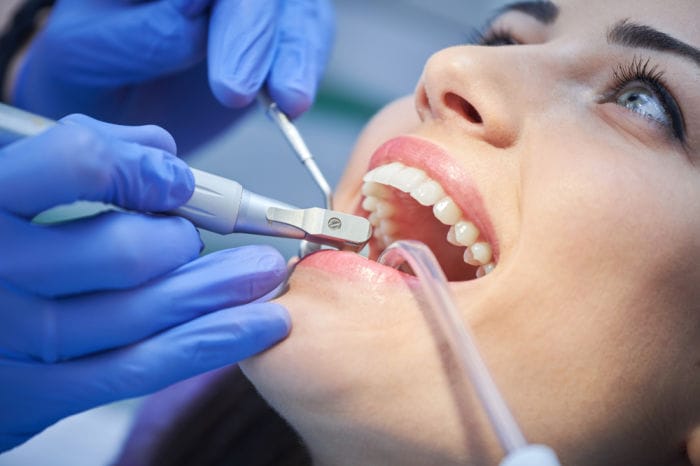 Before conducting a dental cleaning, your dental team will perform a clinical dental examination that may involve the following:
•
An examination of your gums
•
Evaluation for signs of gum disease
•
Looking for loose or broken teeth
•
Examination of your bite
•
Looking for damaged fillings
•
Examining your mouth, including your tongue
•
Taking any needed x-rays
Oral Cancer Screening
Screenings are offered with each visit since the key to remaining healthy is early detection. Most forms of cancer are highly treatable when detected early. An oral cancer screening involves an exam of the oral cavity, teeth and tongue. The focus is detecting signs of cancerous or precancerous conditions.
Some symptoms of oral cancer include:
•
White or red spots or sores in the mouth
•
Sores that are slow to heal or bleed easily
•
A lump or spot in the mouth
•
Unexplained tenderness, pain or numbness anywhere within the mouth
•
Difficulty moving the jaw or chewing, swallowing or speaking
Learn More
If you have been delaying your regular dental exams and cleanings, we strongly encourage you to pick back up with this important practice. Together with regularly brushing and flossing at home, dental exams and cleanings can prevent the majority of oral health conditions that could develop otherwise.
If you have any questions or concerns about our current health practices regarding COVID-19, or would like to get back on track by scheduling a dental exam or cleaning, please contact our office today.